The Schwinn Paramount:
P12 vs P13 vs P15 vs. P10
---
---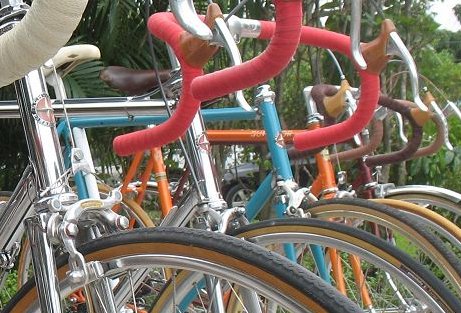 The Paramount went through a number of models during its second-generation production run (1959-1979), including a complete transformation of the "Road Racing" P13-9 model in 1971.
This page will attempt to explain the evolution and differences between the road racing (P12, P13, and P10) and P15-9 touring models through their production runs. The P11 tourist and P14 track models of the Paramount have been excluded for simplicity.
Keep in mind that custom Paramounts exist that do not conform to the following listings, and some frames have been modified over the years. This article is supposed to be a basic overview covering standard production Paramounts only.
Schwinn Paramount model variants:
The early years - P12 and P13:

P12 "Road Racing Paramount"
(1959-1968):

The P12 was known as the default "road racing" model when the second-generation Paramount debuted in 1959. The P12 was highlighted with Nervex lugs, a steel Stronglight Competition crankset, and Campagnolo Grand Sport front and rear derailers. Unlike their later cousins, chrome lugs and fork ends were extra-cost options; hence, many P12 framesets are fully-painted.

Additional options included a Campagnolo seatpost in place of a spartan, rolled aluminum tube, a Campagnolo Record crankset, and white plastic fenders - presumably Bluemels of unknown model.

The P12 - by virtue of lasting into the '67 and '68 model years - can be found with either Nervex (1959-1966) or Prugnat (1967-1968) lugs.

1961 Coppertone P12, fully painted frame; no chrome
Shown with incorrect replacement fork and optional Camapgnolo crankset and seatpost.

1960 all-chrome P12
Shown with basic seatpost and Stronglight crankset. Red headtube an oddity to this frame only, but original.


P13/P13-9 "Deluxe/Professional Road Racing Paramount"
(v1 1964-1971; v2 1972-1979):

The P13 came to light in 1964 as the "Deluxe" version of the standard Road Racing Paramount (re-named as the Professional Road Racing Paramount in 1970, whereupon the P15-9 received the "Deluxe" naming convention). It essentially took the place of the fully-optioned P12: A P13 would come with chrome lugs, chrome fork and stay ends, and full Campagnolo Record & Gran Sport componentry. The P12 remained as the base model, with no chrome and Stronglight fittings.

After 1963, it is pretty much impossible to tell whether a fully-optioned P12 is a P12 or a P13, unless one of the options is missing (e.g.: A frameset with full Campy and no chrome = P12 w/all options minus chrome).

P13's can be found with either Nervex (1959-1966 and 1971-1979) or Prugnat (1967-1970/1) lugs.

The "-9" designation was added to the Paramount model numbers in 1970.

1966 Coppertone P13 w/chrome lugs, fork ends, and rear triangle
Photo provided by Robert Merrill


The P13-9 gives birth to the P15-9:

P15-9 "Deluxe / Deluxe Touring Paramount"
(April 1970-1979)

In 1970, Schwinn developed a 15-speed semi-touring version of the Paramount by fitting a Campagnolo Record triple crankset and Campagnolo Gran Turismo rear derailer to the existing P13-9 frameset. This new model was deemed the P15-9; designating the first time that a Paramount's model number reflected the bike's gearing.

For the 1970 model year, the rear derailer and triple crankset denoted the only difference between the P13-9 and P15-9; without components, the frames are identical. This would change in 1971, when the P13-9 became its own unique frameset within the Paramount lineup.

In 1973, the Campagnolo Gran Turismo rear derailer was dropped in favor of the Schwinn Approved GT 300 LeTour - a re-badged Shimano Crane G.S. long-cage. This was not documented in the catalogs until 1974, but the change took place early enough that all-original 1973 models have appeared with the newer derailer as stock equipment, in addition to some '72s.

1973 Sunset Orange P15-9
Factory stock with exception to pump, rack, and bar tape.
Photo provided by W. Vinciguerra



1971: The New P13-9

P13-9 (v2)
(1971-1979)

As the P13-9's geometry was now doing double-duty as the template for the P15-9 tourer, Schwinn decided to modified and revamp the P13-9 for the 1972 model year to ensure that it's "Road Racer" image wouldn't be lost.

For ease of reference, the earlier model will be referred to as the "v1," and the new model the "v2."

The P13-9 v2 features shorter chainstays and fork blades to accommodate 700C wheels, replacing the larger 27" rims of the P13-9 v1. This modification also reduced the necessary brake caliper reach, allowing for Campagnolo Record sidepull brakes to be specified as stock equipment in place of the Weinmann sidepulls of the earlier model. This also resulted in the deletion of the top tube cable stops found on the P13-9 v1, for the right-hand offset of the stops caused cosmetic cable routing issues with Campagnolo calipers (shown below). Keeping in line with the updated all-racing theme, fender eyelets were permanently deleted from the P13-9 v2.

P13-9 v1 cable routing issue w/Campagnolo sidepulls

Photo provided by Chris Conway

One other significant modification to the P13-9 v2 did not take place until 1972: A change in fork blades. Though the 2" rake of the P13-9 v1 (and P15-9) remained the same, the characteristically English bend blades were was substituted with a far more Italianesque, gradual bend:

Click photo to enlarge


It is worth noting that the blades remained Reynolds 531; Reynolds offered many different fork blade options during this era. No official explanation exists for the change, though it can be hypothesized that the change was done to modify the handling characteristics for racing, as the P15-9 (and soon-to-be released P10-9) continued to use the English bend blades until 1977.

To recap, the P13-9 v2 differs from the P13-9 v1 by the following:

Compact geometry for 700C wheels
Top tube cable stops deleted; cable clips used instead
No dropout eyelets
Campagnolo Record sidepull brakes
Italian-raked 531 fork blades (after 1971)

700C clearance vs. 27" clearance

Top tube cable clips vs. stops

No eyelets

1972+ Italianesque fork blades

P13-9 (v2) short-coupled frame
(1976-1977)

For a short period of time, both the P10-9 (see below) and the P13-9 were offered with short-wheelbase, curved seattube configurations. Catalogs reflect that this model was available from 1976 through 1977, though as the P10-9 is listed with the same option from 1975 through 1978, there is a good possibility the P13-9's run extended into these additional years.

1972 all-chrome P13-9 v2
Shown with Rigida AL 1320 clinchers in place of Mavic Monthlery tubulars; otherwise, stock.



1973: The P10-9 - An old friend with a new name

P10-9 Deluxe Touring/Tourist Paramount
(1973-1979)

As the new P13-9 model overrode the designation given to the original P13-9 v1, Schwinn re-assigned the original P13-9 v1 geometry to a new model number: P10-9. There is no difference between a P13-9 v1 frame and a P10-9 - they're supposed to be identical.

This also marked the second time a Paramount model number was assigned to match its gearing, making it easier to designate each model: The P10-9 and P15-9 (and the corresponding ladies' P60 and P65) - equipped with the traditional Paramount geometry - took care of the sport/touring market in 10 and 15-speed configurations. Granted, the P13-9 Road Racing Paramount still carried the oddball model number, but it had finally become a purpose-built racing bike at this point.

Despite the inclusion of the "Tourist" name in some Schwinn literature for both the P10-9 and P15-9, these models bear no relation to the original, upright-bar P11 Paramount Tourist.

P10-9 short-coupled frame
(1975-1978)

For a short period of time, the P10-9 was offered in a short-wheelbase, curved seattube configuration. A 1975 example is shown at right.

P10-9 (from 1974 Schwinn Specifications catalog)


1975 short-coupled P10-9
Shown with incorrect 700C tubular rims.



1978: Fork rakes change

Thanks to the book "The Custom Bicycle," we know that Frank Brilando - vice-president in charge of Schwinn's engineering at the time - changed Paramount fork rakes in 1978.

Under his direction, the 2" fork rake on the P10 and P15 was reduced to 1-3/4", and the P13-9's forks were reduced to 1.5" in rake. Not much is said in the book about this change, except for the following quote:

"Until recently, the touring bicycles used a 2-inch fork rake but laboratory tests confirmed that 0.25 inch less gave the tourist a more stable and safer ride."

1978 P10-9 w/revised fork geometry