Swapping the Dia-Compe MX-1000 for the Tektro C326 - not as easy as it seems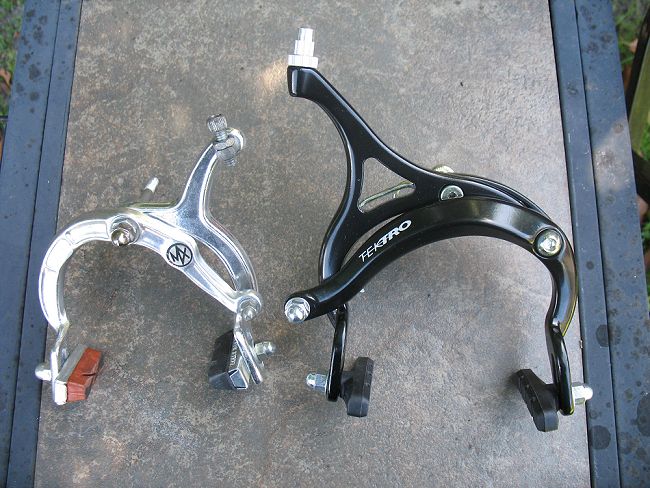 ---
The Dia-Compe MX-1000 was fitted to many beach cruiser-type frames back in the 1980's, and is also a favorite of the BMX crowd. Say what you want about them, but I can't express the same admiration for them. The MX-1000 and the MX-900 are cheaply built (no centering flats, cheap bushings, rough finish) and flex a lot under braking.

Hence, when I learned of Tektro's new C326 dual-pivot brake caliper - with a 79mm to 99mm pad reach, similar to the MX-1000 - I thought I'd give it a try. I've tried the long-reach R556 and 800A models with excellent success, so the C326 should work out equally well, right?

Wrong.

The Tektro has about the same reach, but it is huge - primarily in width. This is good for fender and tire clearance, but there is a caveat which throws a wrench into the mix. Most of us have a tendency to look up the brake reach of a caliper and gloss over the rest of the specifications. Unfortunately, this means you will miss the most important detail of the C326 - its minimum rim width of 38mm (and a maximum of 50mm!).

I've been tinkering with the best and worst 26"/559mm wheels for seven years now, and - at most - I've seen cheap steel 559mm rims at or approaching 35mm in width. For that matter, the rims on most Wally World 26"-wheeled bikes are around 25mm. The widest 26" aluminum rims I've seen are 31mm - they so happen to be the same rims shown on the BCA CrossTown test mule in the photos.

In short, the rim specifications for this brake caliper are nothing short of ridiculous. Nevertheless, I made an attempt to use them with the 31mm rims, with predictable results: The caliper had to be compressed past it's point of maximum mechanical advantage to fit the rim. Not ideal. At best, one should be able to make up the 8mm by mounting long-stud brake pads with shims on the inside, such as the Kool-Stop Eagle Claw II. That's next on the agenda for these calipers, and (hopefully) the end-all solution. This page will be updated when that time comes.

One last complaint is that the caliper design doesn't allow for reverse cable routing as often necessary on a mixte or ladies' frame. Retrofitting the C326 for this purpose would require a new adjuster barrel, and - most importantly - a cable knarp to hold the cable end at the adjuster barrel. At either rate, the caliper width is wide enough to present a potential chafing issue.