1973 Raleigh Sports

Click here to go back to year selection.
---
1973 catalog: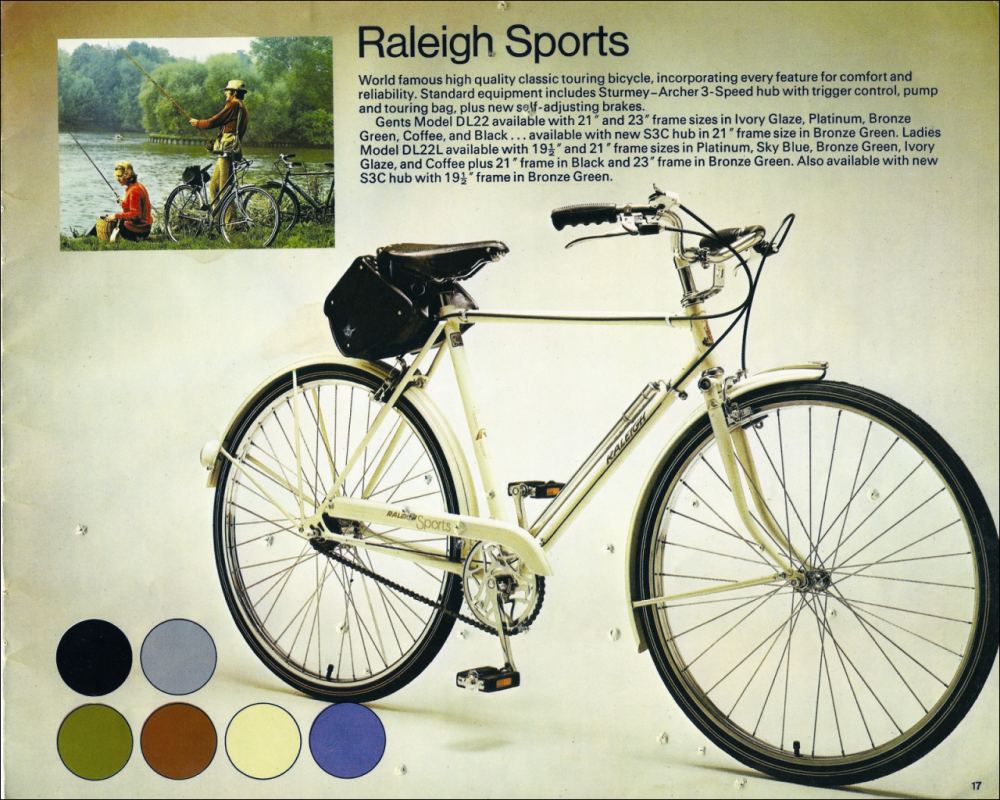 ---
Sizes and colors:
| Frame | Bronze Green | Platinum | Coffee | Sky Blue | Ivory Glaze | Black |
| --- | --- | --- | --- | --- | --- | --- |
---
1973 decals:
For 1973, Raleigh changed all transfers on the Sports with their revamped, outline block lettering (based on the similar italicized Raleigh logo first seen 1962), along with tacky new Rampar graphics. The pinstriping once applied to the fork was omitted. The Heron logo on the fork and seat tube were substituted with Raleigh's Rampar (RAleigh-AMerica-PARts) "R" transfers.

The chainguard decals were changed as well, to match the new "Raleigh" block letters; as with the Tourist and Superbe, the word "Sports" was added next to the Raleigh text, in Century Gothic font.

Full comparison with 1972 and 1974 models available in the Visual ID section.
---
Frame details:
No frame revisions from previous year. Braze-on tabs include one each on the seat post and down tube for chainguard mounting. No cable stops; all cables are fastened to the frame with chrome clips - this would change in 1974.
---
Fittings:
Raleigh's "Self-Adjusting" brake lever attachments are featured for the first time on the Sports for 1973. Raleigh's standard bolt-on levers w/o self ajusters are replaced with a nearly identical, hooded design most commonly used on the Raleigh Chopper SE.

The self-adjusting mechanism is essentially a black plastic adjuster attached to the end of each lever, which works similar to the self-adjusting drum brakes on a car. Suffice it to say that neither work that well, though the car may have the advantage. These adjusters were known to malfunction and brake very quickly.

For sake of normal adjustment, some riders have removed the self-adjusting mechanism, and substituted the caliper cable stop for an older variant with an adjuster barrel.

Cranksets (by now, down to 46T from 48T) also lost part of their decorative ribbing mid-way through 1973. The catalog model shows the earlier crankset design.

Second to last year for the clear (and crack-prone) Sturmey-Archer trigger shifter window.

Further information for 1973 examples is listed on our Raleigh Sports Fittings & Equipment chart.


Raleigh self-adjusting lever


Sturmey clear trigger, 1971-1974 variant


Plain chainwheel, clockwise Heron logos
---
Serial numbers:
Serial numbers may be stamped on the top seatpost lug for early '73 frames; by mid-1973, the more common serial system located behind the seattube took effect.

More serial number information available in our serial chart section.

| Early 1973 serial, mens' frame | Early 1973 serial, ladies' frame |
| --- | --- |


Mid or late 1973+ serial